Our SAFE® Brand is Our Foundation
It means Captive Bred Top Quality!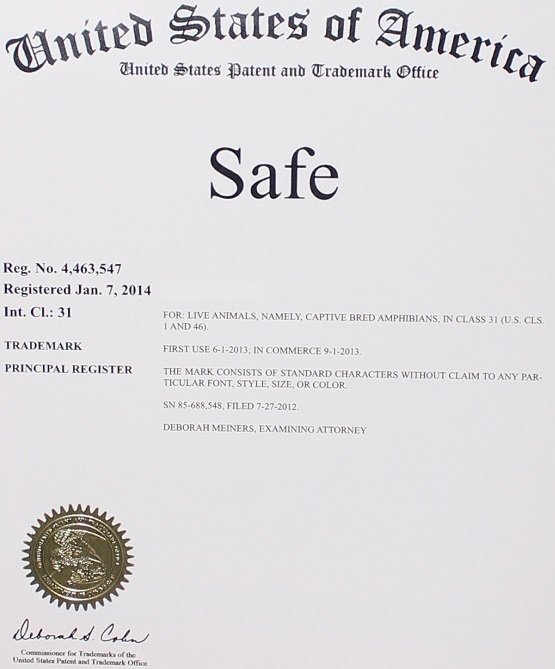 Preservation
We are also about global conservation by and through what we do here in the United States of America as we breed and raise top quality, SAFE captive bred dart frogs as perfect pets that live for 10-15+ years. In doing so, we promote the preservation of the natural rain forest ecosystems, and offer a SAFE captive bred alternative to wild caught or imported frogs. In addition, we work hard to establish a pet frog market far removed from the wild jungle frogs that are the ancestors of these harmless, docile, and highly social pets.
We NEVER handle, take possession of, sell, or even allow in our facility, any wild caught jungle frogs, poison dart frogs, or poison frogs of any kind, and we never will–Guaranteed!
---
To USA Frog, DESIGNER frogs are the actions behind the conservation words, while others sadly advocate the capture of more wild frogs instead of the captive breeding arts.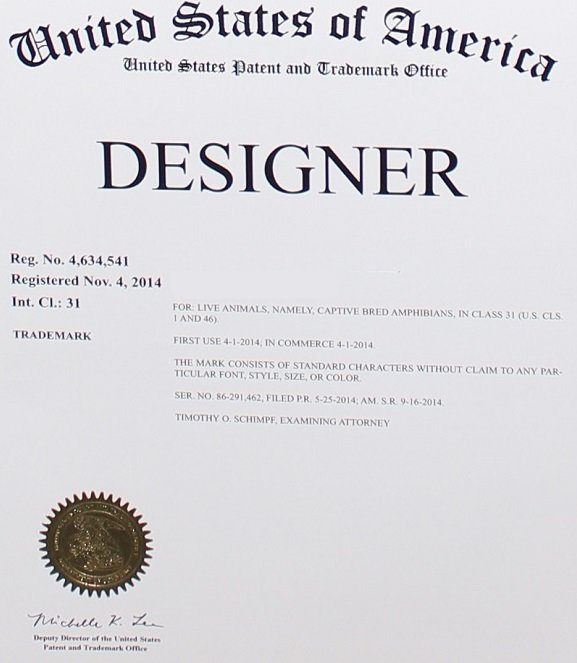 We are the ONLY AUTHORIZED seller of pet frogs under the Federally Registered DESIGNER brand.
WE PRESENTLY DO NOT SELL DESIGNER BRAND FROGS TO THE PUBLIC, BUT ONLY TO HIGHLY INTERESTED FROG BREEDERS ACTIVE IN THE FROG BREEDING ARTS. FULL LINEAGE DATA IS PROVIDED FOR EACH PRIVATE SALE.
---
Many of our brands are Federally registered by the U.S. Government with many more registrations to come in the future.
Our brands include:
SAFE®
DESIGNER®
FROGMATCH™
COLOR™
COMPANION™
CLASSIC™
USA FROG™
US DART FROG™

AMERICAN™



The US Dart Frog and USA Frog logos, as well as the rainbow frog and rainbow dart frog logos, are trademarks of USA Frog and US Dart Frog.


pet dart frogs and tadpoles

tadpoles
---
Our Federally Registered SAFE brand is your assurance our dart frogs are captive bred, completely harmless, and socially raised for group compatibility. We breed for quality, health, beauty, and strength–always!
---